4 Tips for Using Tile Sizes to Your Advantage
See More about 4 Tips for Using Tile Sizes to Your Advantage >>>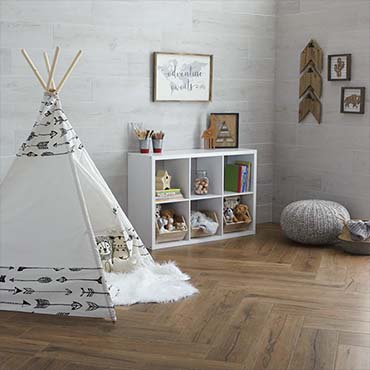 Nowadays, floor tile is available in many designs, styles, and sizes. From one-inch mosaics to large format planks, there are tons of tile options to fit your needs for any size room. Choosing tile that adds dimension, uniqueness or pops of color can be fun when you know how to blend different shapes and sizes to meet your design goals. Consider these following tips when selecting different tile sizes to spruce up your space or achieve distinctive looks.
1. Larger Tiles Make Small Rooms Appear Bigger
Because grout lines are thinner and fewer as part of the layout, smaller rooms appear bigger when using larger tiles. Large-format tiles make floors look more streamlined – therefore, creating the illusion of more space. If you're incorporating wall tile in smaller rooms too, consider a proportionate tile for the size of the room.
It's important to note that wall tile should be complementary and must never be larger than the floor tile. Using wall tile that is larger than floor tile upsets the balance and proportional look of the room.
2. Tiny Tiles Help a Small Rooms Flow
Tiny tiles can help improve the flow of small floor plans when the spacing between the sink, toilet, cabinets, and other bathroom fixtures is compact. Small tiles like mosaic tiles require fewer cuts, which ultimately offers a more streamlined look.
3. Plank Tiles Add Depth and Texture
When you want the warmth and coziness of hardwoods with the resiliency of tile, wood-look plank tile is the answer. Linear tiles, like 9 x 36-inch planks, add depth to any room and they come in a variety of styles, textures, and colors.
You can also incorporate stone planks in herringbone, corridor, and brick-joint patterns to give your floor a modern twist.
4. Tile Shape Will Impact a Room
Instead of a common tile design, add interest and depth to your space by utilizing a unique shape or pattern. Diagonal tiles, for example, can make a narrow room appear wider. For an extra-large room, add a border of contrasting rectangular-shaped tiles to define your space. There are also mosaic tiles like Harlequin, that can create unique specialty designs. You can use these different shapes in a strip to offset traditional square tiles or to create your own attractive accent walls.
Tile sizes can greatly affect the feel of your space and when you choose a tile that is the right size and shape it can make small rooms appear bigger and define larger rooms, so before you commit to a tile size, consider these helpful tips.
---
NOTE:
D & G Flooring does not carry every style of product. Check with us first about a particular product or to see if your product choice is available for special order.
---